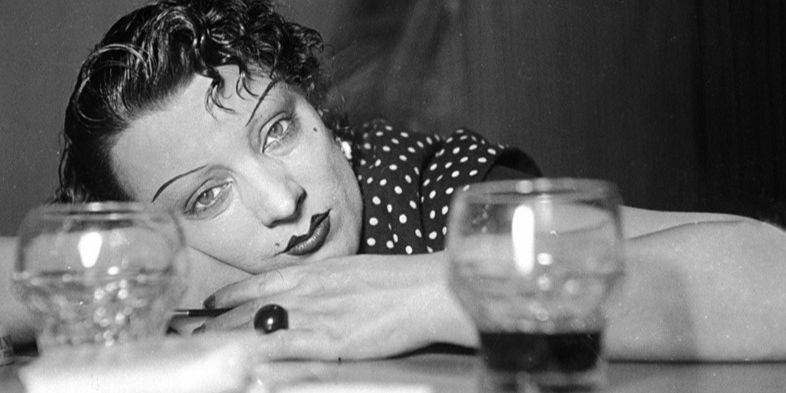 My alluring Prima Donna candle is inspired by the vivacious Kiki De Montparnasse, unifying muse for a generation of Parisian Dadaists and Surrealists in the 1920's.
It is said that there was something both captivating and unknowable about Kiki, rendering her the perfect and irresistible muse. So be prepared because you are heading on a journey of intimidating beauty and a frequently unclothed body...
Alice Ernestine Prin came into the world on October 2nd 1901 in Châtillon-sur-Seine, France. But little did everyone know that this young country-girl was later to be known as Kiki De Montparnasse; style icon and artist force in her own right.
When Kiki was just a small child, her Mother decided to leave for Paris to better her own life and leave poor Kiki behind. Instead, Kiki was left in the care of her Grandmother who was not equipped with the tools that she needed to raise a small child. Kiki and her Grandmother struggled to make ends meet and found themselves in anguishing poverty. Rats were frequent visitors to the house and the stench of rotting food attacked their senses. So, at the age of 12, Kiki decided that she would join her Mother in Paris in search of a better life.
Kiki had bright dreams of her future in Paris but the reality she faced when she arrived, was certainly more gloomy than bright. In desperate need of money, Kiki took up work in a bakery but the pay was a mere pittance and so Kiki still struggled to get by. Kiki had never been taught about money and as her parents weren't married when Kiki was born, Kiki didn't know her Father or even, where he was.
After living in Paris for a short while, her Mother decided to send Kiki to school. However, our rebellious Kiki only lasted in eduction for a year. After all, school was boring and she had set her sights on something so much bigger! Kiki believed that great things awaited her. So, in 1917, Kiki set out to explore the alluring the world of modelling…
Kiki was excited about her new modelling endeavour. For the first time in her life, she had experienced a little male attention and was was able to make a small income. Dolefully however, her Mother didn't agree.
She thought that Kiki was degrading herself and that modelling was simply a way for artists to leer over young women. These clashing views escalated and soon the two were arguing constantly. Before she knew it, Kiki found herself homeless on the streets of Paris and facing poverty once more.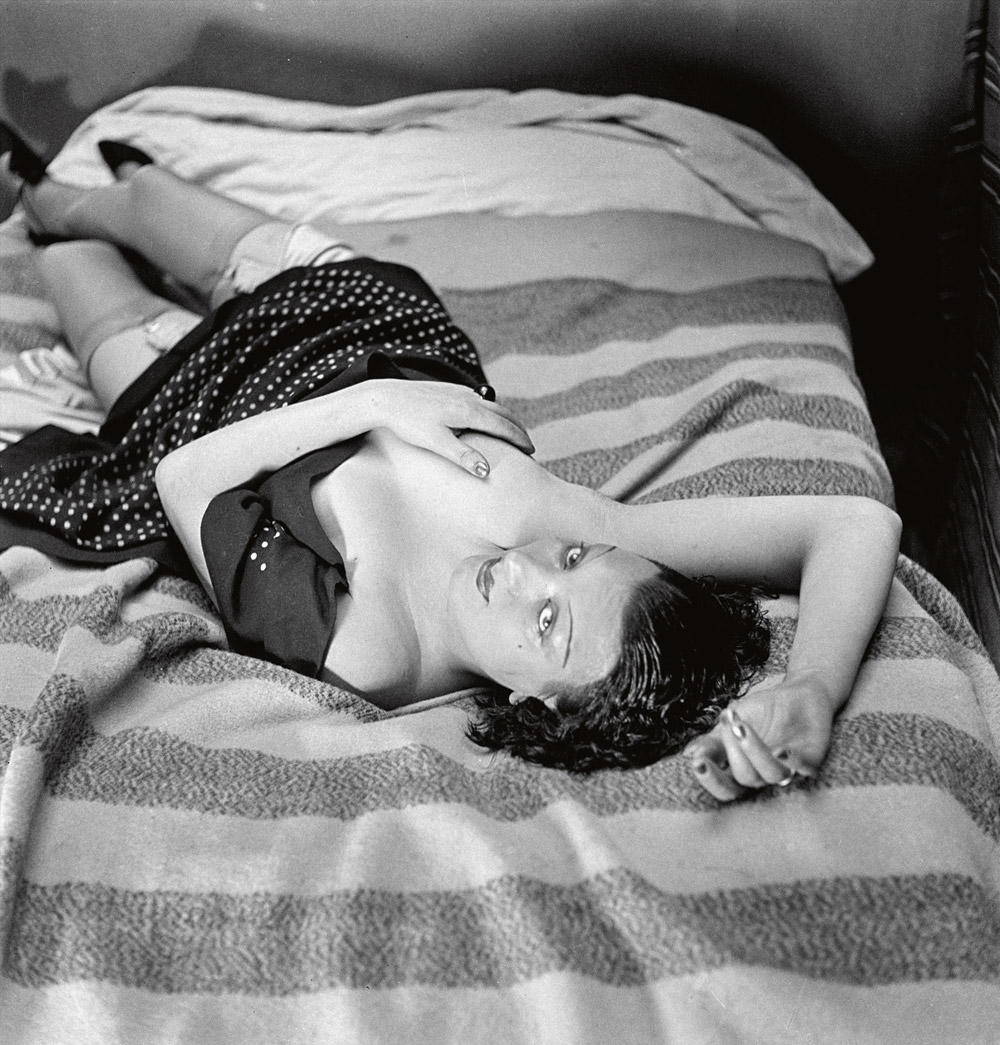 Kiki was excited about her new modelling endeavour. For the first time in her life, she had received a little male attention and was was able to make a small living. Dolefully however, her Mother most certainly didn't agree.
She thought that Kiki was degrading herself and that modelling was simply a way for artists to leer over young women. These clashing views escalated and soon the two were arguing constantly. Before she knew it, Kiki found herself homeless on the streets of Paris and facing poverty once more.
These new found circumstances were most certainly a set back. But Kiki was determined to find her fortune one way or another… Kiki sought refuge by living with some friends that she'd met during her short time in Paris. They would share their food with her and offered her somewhere to sleep. Kiki used her modelling experience to her advantage and set out to find new artists who might need a muse. Boy, did she find them. Before she knew it, Kiki was definitely modelling again. Only this time it was in the nude!
So here Kiki was, a vagrant living on the streets of Paris and stealing a nights sleep inside wherever she could. She was modelling nude in exchange for food & shelter but vibrant Kiki's spirits were never dampened. She wore a smile regardless of her unforgiving situation and forever exuded fun & joviality. One day, when she was meandering the streets of Paris in search of new 'breaks', she came across Montparnasse; an area in the south of Paris on the left bank of the river Seine.
Montparnasse was like nowhere she had ever seen. It erupted with cabarets & bohemian life. The atmosphere was electric. This was the epicentre of artists, literature, absinthe & loose living in Paris and Kiki was enthralled! She embraced her new found home with fervour and before long she had made many friends. But not just any friends. For It was here that Kiki forged a friendship with a Russian painter named 'Chaim Soutine'. Chaim Soutine took Kiki under his wing & eventually introduced Kiki to other artists in his circle. These included 'Maurice Utrillo' who specialised in cityscapes, poet 'Jean Cocteau' who was a man of many talents, 'Fujita Tsuguharu' a Japanese-French painter and 'Modigliani', an Italian-Jewish painter and sculptor.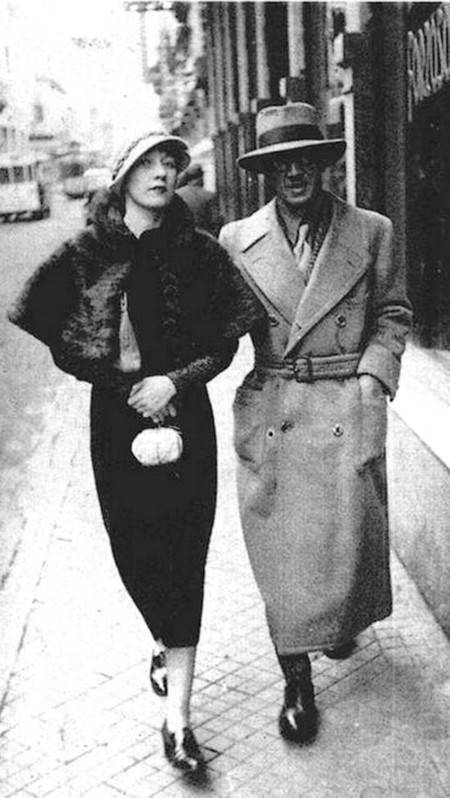 Kiki et Foujita a Montparnasse, Paris, 1926, photo by Iwata Nakayama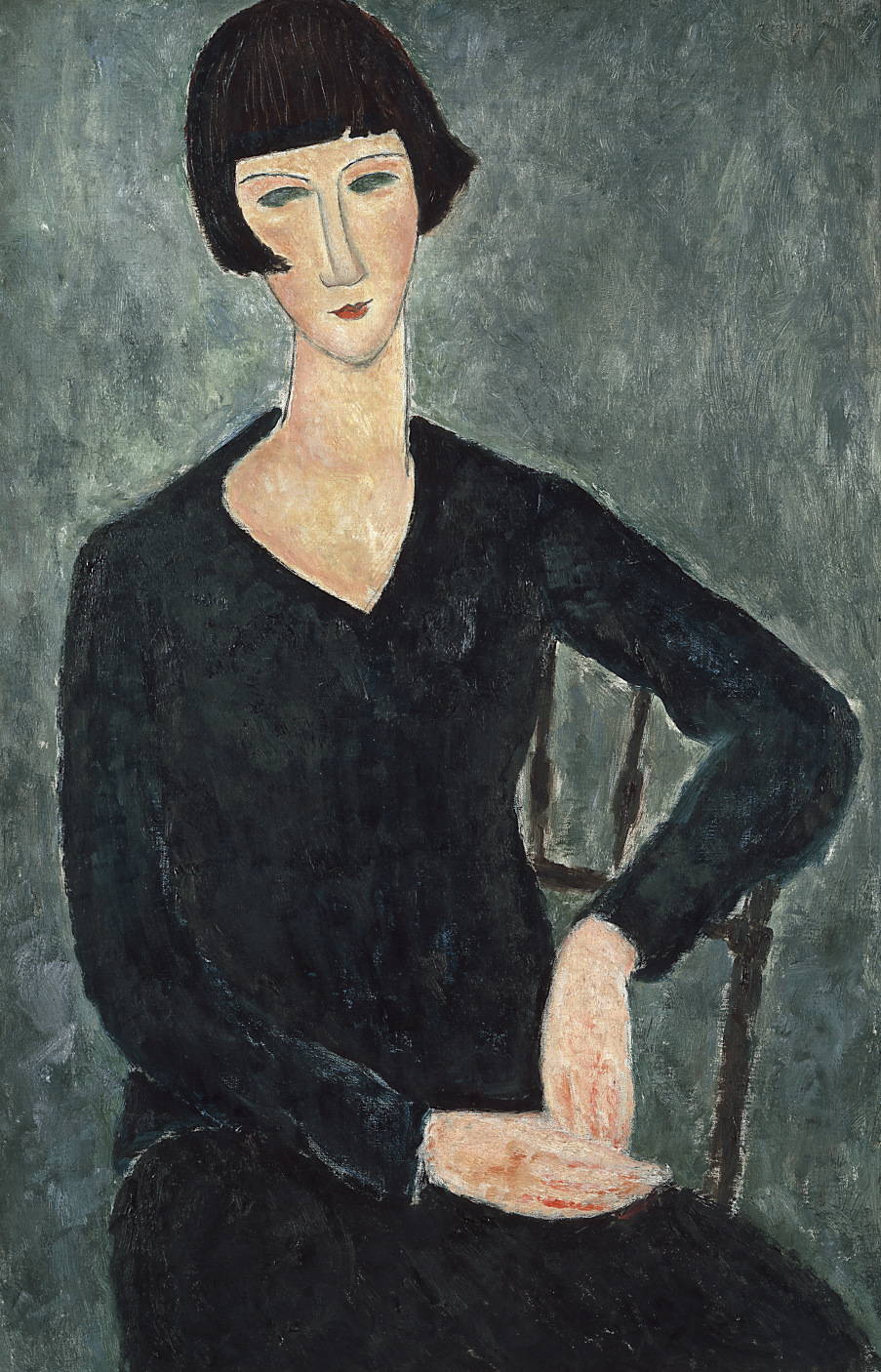 (Portrait of Kiki) Seated Woman with a Blue Dress, Amedeo Modigliani, 1918-1919,
During the year of 1918, Kiki met a French-Polish painter named 'Maurice Mendjisky'. Very quickly, Kiki and Maurice's friendship escalated to a passionate a love-affair. Maurice embraced Kiki as his muse and used her as his model for a series of portraits. This then opened a window for Kiki to become a muse to nearly all of the leading male avant-garde artists in France at that time. Needless to say, Kiki jumped at this chance! It is also said that it was in fact Maurice who gave Kiki her new and shorter name, 'Kiki De Montparnasse'.
'Man Ray' was a revered American visual artist and photographer who spent the majority of his time in Paris. In a stroke of luck which would change Kiki's life, she and Man Ray crossed paths one sunny day in Paris. Kiki was known for breaking the hearts of her artists. She had become used to meaningless love affairs and would discard men like last night's supper. Little did she know that Man Ray was about to steal her heart.
Kiki (obviously) soon started modelling for Man Ray and the two set about creating memorable & exciting works of art. She appeared in his film 'Le Retour à la raison' which gave her an insight into the world of acting and film. Kiki quickly warmed to the idea of becoming an actress. So, with the support of Man Ray, she travelled to America solo to test out her new found talents. However, this adventure was short lived. Shortly before an audition, Kiki decided that she wanted to go shopping and well, managed to miss the whole thing!
Kiki longed for Paris and her lover Man Ray. Being apart from both of them made her realise how important the City of Love was to her… and of course her relationship too.
Once her feet were firmly on back on the streets of Paris, Kiki rid the thoughts of a film career. Instead, she decided to focus her efforts on new creative endeavours such as painting. She continued to model for Man Ray and even appeared in a few avant-garde films that he directed.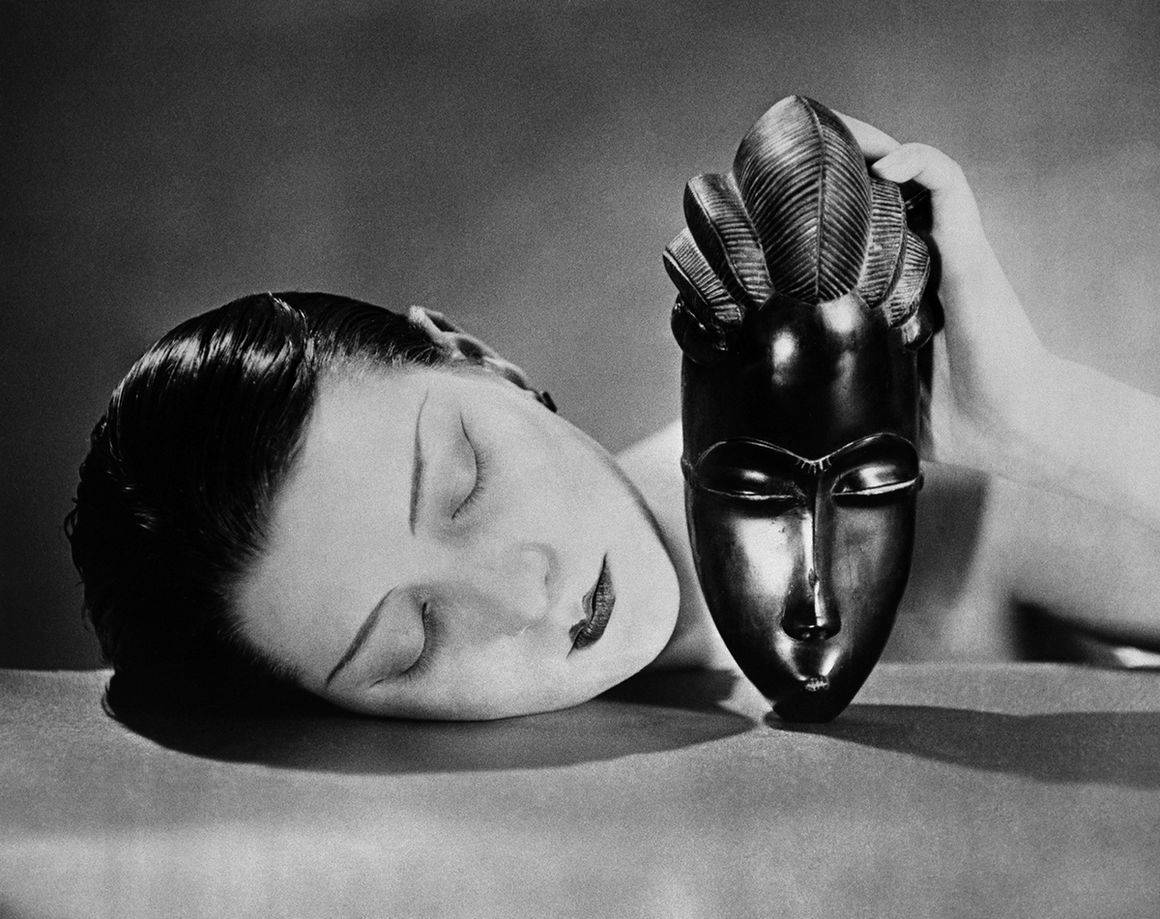 Have you ever come across a photographic piece of art which features a woman with f-holes on her back? Well, the woman in this photograph is Kiki De Montparnasse and the artist behind this striking image is Man Ray! The photograph was taken in 1924 and is named 'Le Violon d'Ingres'. The image was made with the intent of comparing Kiki's curves to that of a musical instrument and was regarded as the most surrealist photograph to be taken yet.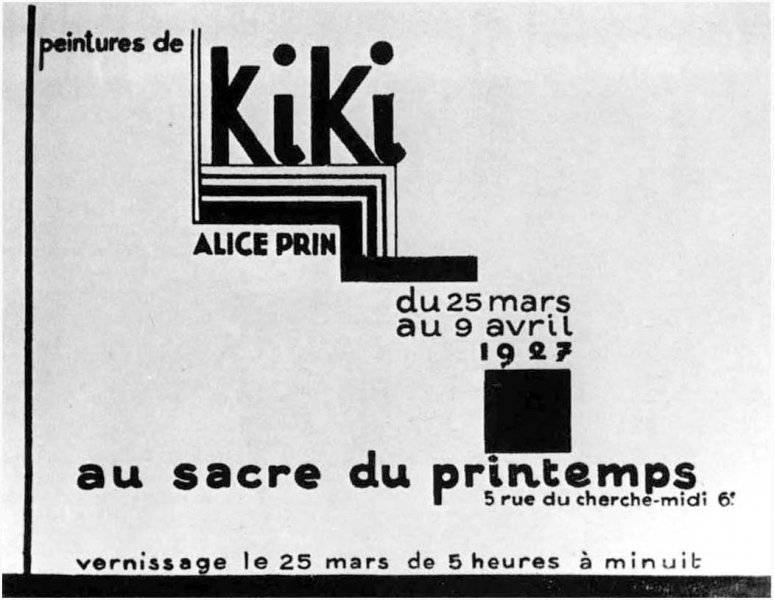 " The opening drew the neighbourhood regulars out en masse. From five o'clock until past midnight, they came in a continuous stream and the little gallery vibrated with passionate comments. To our knowledge, it was the most successful opening of the year. Those who had come to have fun stayed to buy, and before the night was over, a large number of canvases were adorned with the little white cardboard marked "sold."   HERALD TRIBUNE
Although it was what had initially shaped her success, Kiki wasn't always just a muse to avant-gadists. In 1927, Kiki had her very own successful exhibition. All of her works were displayed at the Sacre du Printemps gallery and they had almost entirely sold out by the end! Two years after her exhibition, she decided to publish her memoirs which would lift the veil on the roaring 1920's in Montparnasse. The introduction to Kiki's raw & scandalous memoirs was written by the brilliant Ernest Hemingway. Published in France and translated into English too, it became quite the popular read.
Readers in America however, was a little less keen to embrace Kiki's pennings. Rumour has it that some of the stories proved to be a little too risqué for their wholesome American taste!
By the end of the 1920's Kiki's many talents span across modelling, painting, writing and acting… What more could she possibly do? Well, throughout the 1930's/1940's, Kiki honed her singing talents and even made some recordings too.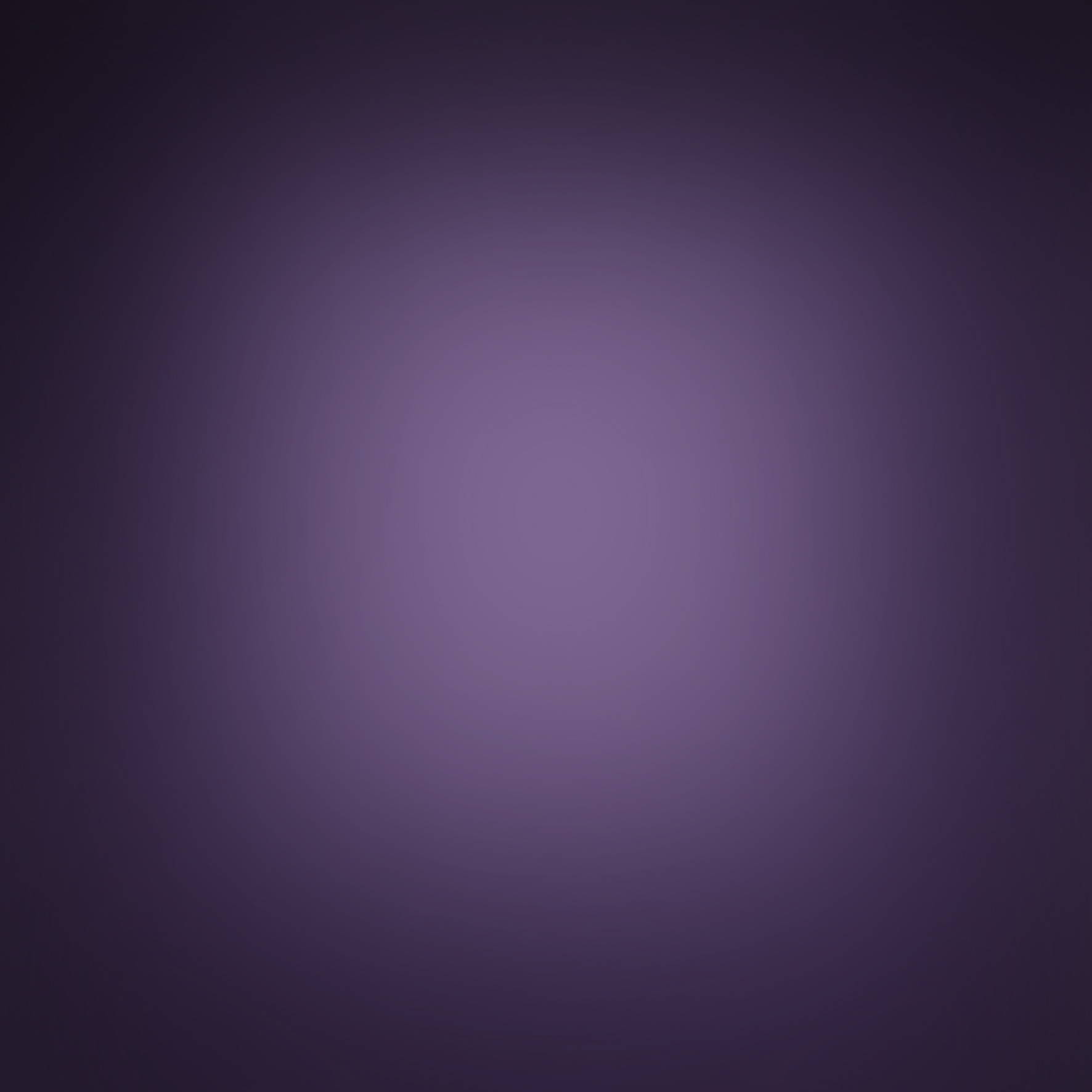 A few of Kiki's songs:
'La Haut Sur La Butte'
'Les Marins de Groix'
'La Volerie'
'Kiki Etait Belle'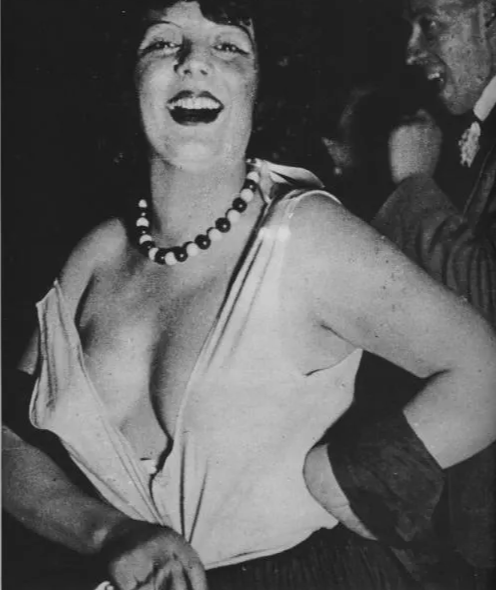 Kiki, May 3, 1929 at the charity ball of the Friendly help of artists.
Kiki's colourful life was alight! She was a respected muse & had finally made her small fortune by exploiting her various talents. Sadly though, and as in all great stories, a turn for the worst was about to come. Her art & party filled lifestyle soon extended its hand of temptation and Kiki found herself immersed in alcohol & drugs. To make it all the worse, the excitement around Kiki's work soon began to fade and before long, Kiki was singing for the tourists of Paris in order to fund her violent addictions. It wasn't long at all before Kiki's health started to deteriorate and she soon became dreadfully ill. Although she tried many times to put the bad habits to a halt, she couldn't help but eventually give in to temptation.
Despite her demons, Kiki continued to play the role of 'muse' and was sought after by many artists. But in a turbulent twist, in 1939, Kiki was arrested for the abuse of cocaine which led to her being institutionalised. After her release, Kiki vowed to quit her damaging habit. Woefully, her attempt was futile as poor Kiki was arrested for the same offence in 1946. Following her second release, Kiki continued in her addictive battle and was eventually seen collapsing in front of her apartment.
Due to medical complications associated with her continued use of alcohol & drugs,  Kiki tragically passed away. Many artists & fans gathered to attend her funeral, and even followed to see her burial in Montparnasse Cemetery. Kiki was buried in the place that she loved most amongst the people who had supported her passions.
Her tombstone identified her as 'The Queen of Montparnasse'.
Kiki was known for her creativity, frankness & bravery. She rose from poverty stricken beginnings to inspire artists who thanks her, produced astonishing works. Kiki was unashamedly fearless in her approach to life and proved that with grit & persistence, the boldest dreams can be realised, even when you start with nothing.