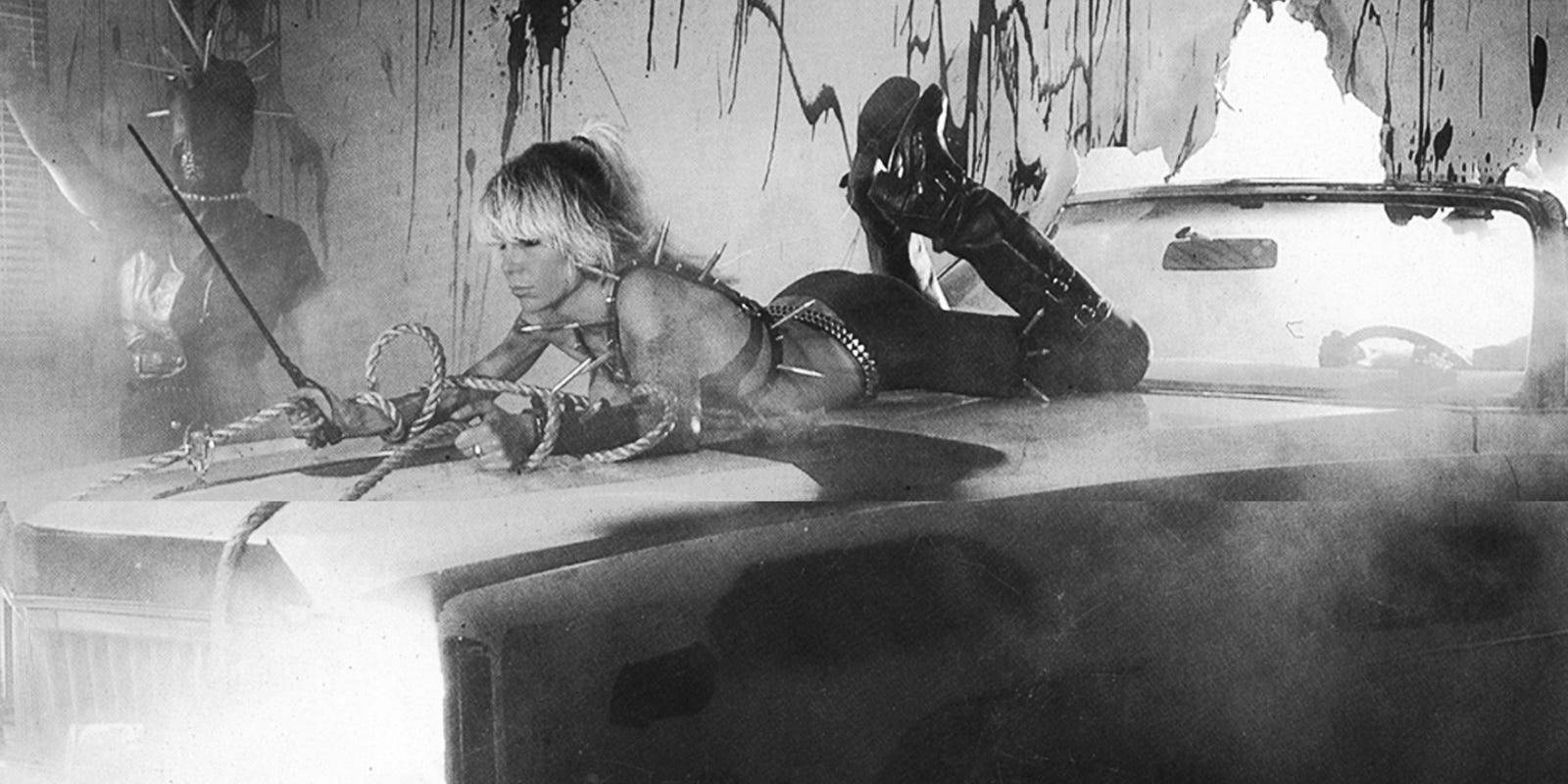 Basically, I hate conformity. I hate people telling me what to do. It makes me want to smash things.
- Wendy O. Williams -
For this issue of Behind the Muse I am feeling pretty darned thrilled to be telling you about the Muse behind my Punk scented candle; Wendy O. Williams.
As the lead singer of the Plasmatics, Wendy was dubbed the 'Queen of Shock Rock' and was her the most outrageous singer of her time.
So grab your studs & let's delve into the nitty gritty. Get ready to embark on a journey of scandal, anarchy and rock...
On the 28th May 1949 in Rochester, New York, Wendy Orlean Williams burst into the world.
This punk-rocker in the making was born into a strict family who aimed to raise 'proper' children that would be embraced into high-society. It's fair to say that fearsome Wendy had other plans...
At age 7, Wendy had her first taste of the performing arts when she started tap dance lessons. An early seed had been planted… However, as much as our rebellious Wendy did love dancing, she wasn't one for rules or for conforming to the status quo. After completing the 9th grade at School, Wendy abruptly decided to quit.  Needles to say, her parents were dismayed. A fiery exclamation of wrath and disdain occurred over her sudden departure. But a life without rules, boundaries or restrictions beckoned and Wendy was all-in on that.
She eagerly went on to travel around Europe and the United States, picking up small jobs along the way. Wendy was hell bent on discovering everything that the world had to offer and she certainly wasn't going to find it in Rochester.
It was 1976 when Wendy's path collided with the enigmatic Rod Swenson in New York. Swenson had a fugitive intangible charm. He was Dada-influenced performance artist who was in the throws of experimenting with erotic & extreme theatre. After responding to a classified ad, placed by Swenson, Wendy became a performer in his show which was aptly named 'Captain Kink's Fantasy Sex Theatre'. Here she honed her craft and enraptured audiences with her extreme, sex-infused performances.
Unbeknown to Wendy at the time, a subculture movement was bubbling beneath the surface of Manhattan. One which would change the course of Wendy's path forever. Before you knew it, the city was ablaze with anarchy, leather, studs & mohawks. Punk Rock had erupted & it gripped the city's dwellers. This led an excited Wendy & Rod to form a new plan. Together they would form the ultimate punk rock band with Wendy as the lead singer! Behold, in 1978 the band was formed and they named it… The Plasmatics.
Merging together the simplicity of punk with heavy metal & guitar, they quickly climbed the ranks of the punk scene. This was largely in thanks to their on stage antics which included a chainsaw-wielding Wendy, practically nude with some strategically placed tape covering her nipples. Her gaping audience with would watch & cheer with a stunned incredulity.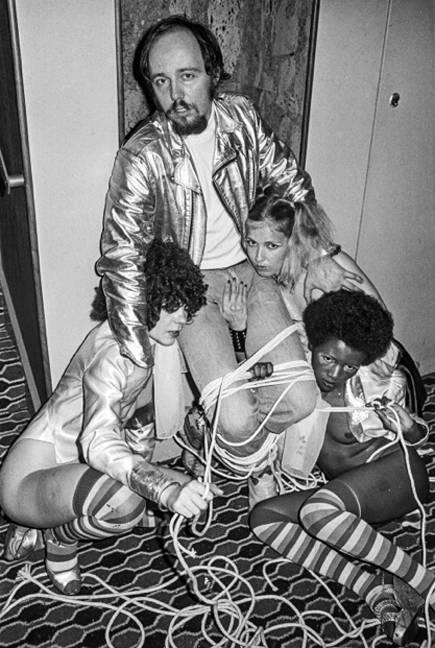 Rod and Wendy (left) at Captain Kink's Sex Fantasy Theatre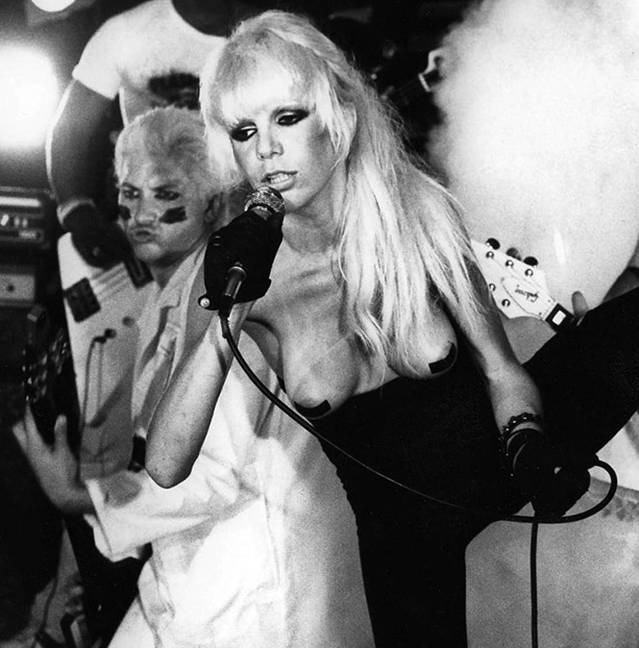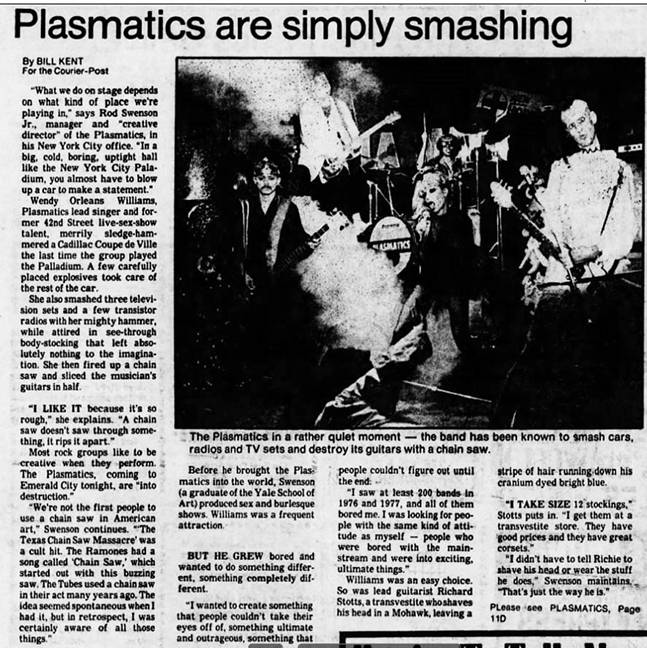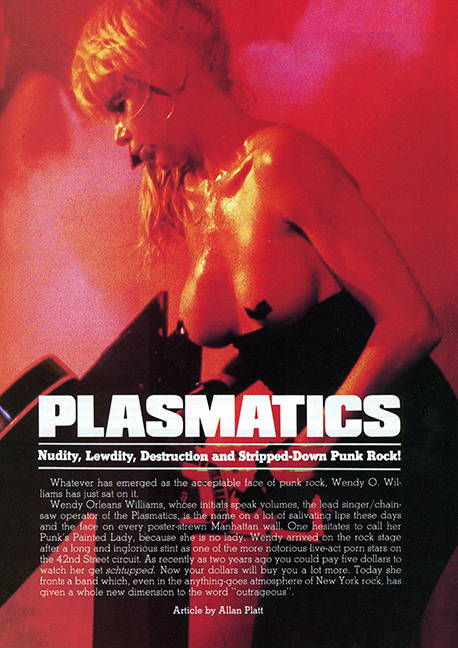 By 1980, the Plasmatics were notorious. After signing a record deal with Stiff Records, their international reputation soared and they released their first album, 'New Hope For The Wretched'. It wasn't long before the Plasmatics grabbed headlines for other reasons too… In early 1981, Wendy was arrested after a show in Milwaukee, Wisconsin due to her lewd & sexual behaviour on stage. In fact, she had been reenacting a sexual act using a sledgehammer as a prop.
'Timid', Wendy most certainly wasn't.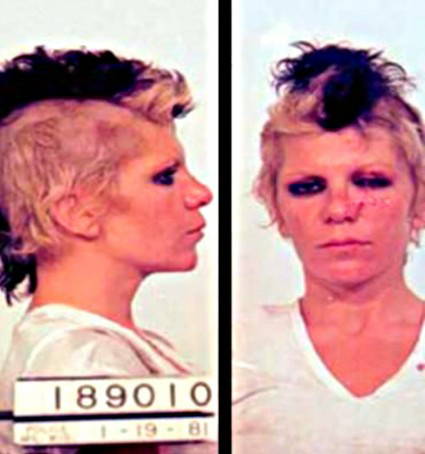 To say that Wendy wasn't treated kindly by police offers would be an understatement. In fact they brutally beat her, claiming that she attacked them first, and in her mugshot she appeared to be battered and bruised. One might but think that Wendy had learnt her lesson. But the thing is, the Plasmatics were now famous for their outrageous performances and Wendy wasn't going to let one little criminal charge stand in the way of progress. So, not long later, Wendy found herself being arrested again in Cleveland, Ohio. The charges were similar to the ones in Milwaukee, however she was somewhat pleased to discover that the police officers here were a little less brutal and she escaped bruise-free.
To her delight, Wendy was cleared of all charges in both cities. However, this didn't stop her from filing a lawsuit against the police officers in Milwaukee for battery. She pushed and persevered but sadly, disgruntled Wendy wasn't successful and all charges were eventually dropped.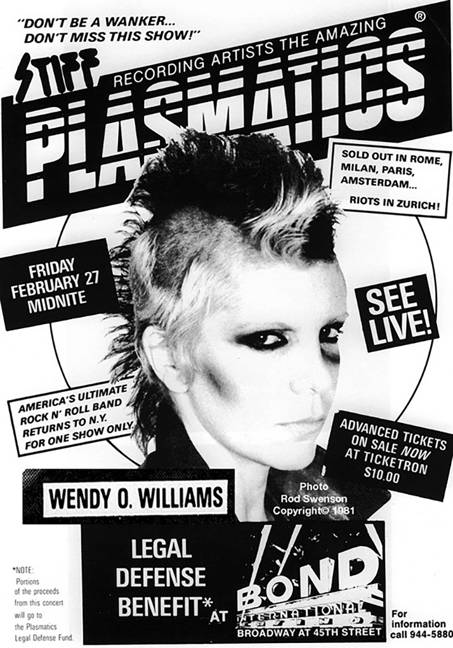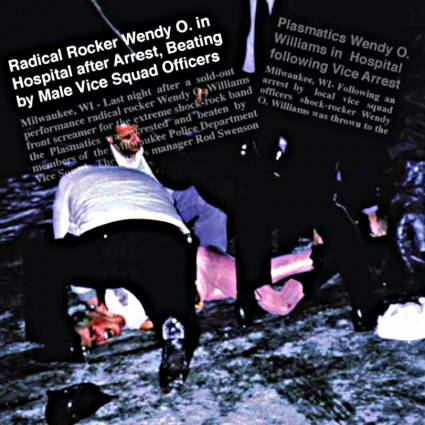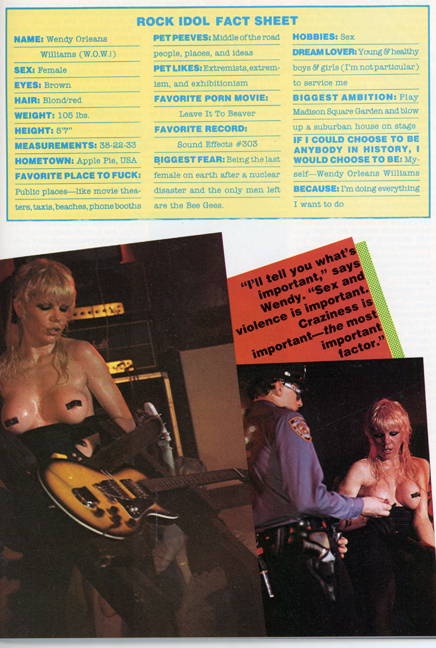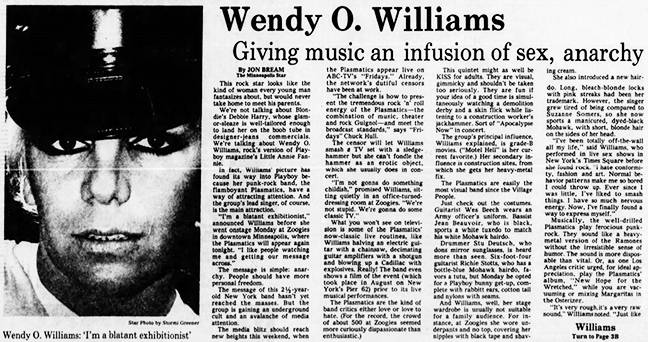 Most of us would wish to make headlines for something other than arrests & battery, and we can only presume this wasn't much of a delight for Wendy either, but it actually worked very much her favour.
Wendy's profile soared due to her new found press around the lawsuits & violence. This allowed the Plasmatics to become regulars on American TV, featuring on shows such as 'Fridays' and 'SCTV'. It would be very easy to skim over this as an achievement, but Wendy and her band were actually making a mark on music history, as it was very uncommon for American punk bands to appear on TV at the time. All hail the fearsome Wendy!
Not all artwork is appreciated, especially not in commercial eyes, and after the Plasmatics first major-label album, 'Coup d'Etat', failed to deliver in sales, Wendy set new sights on recording a solo album. Thankfully Wendy saw some success rather quickly with her album 'Wow' which was produced by Gene Simmons in 1984. This even earned her a Grammy nomination for 'Best Female Rock Vocal Performance'. Despite this major achievement, Wendy still wasn't quite able to propel herself into mainstream, solo stardom.
Turning back to childhood roots, in 1986 Wendy thought it was about time that she gave singing a break and took her chances with acting instead. This led to her appearing in the film 'Reform School Girls' as bully 'Charlie Chambliss'. This role wasn't to last though, as Wendy and the Plasmatics made an enthusiastic return in 1987. They provided the world and their fans with a sci-fi album creatively called 'Maggots: The Record', but woefully, this wasn't too successful either. After realising that the album wasn't going to be as prominent as their previous works, the Plasmatics decided this was the final hurrah and Wendy left once again.
So, finally shutting the doors on her singing career and holding the Plasmatics as nothing but a bittersweet memory, Wendy continued with her acting appearances. But cruelly, in a final swoop of rejection, the acting roles soon dried up too.
With very limited options left, discontented Wendy uprooted to live in Storrs, Connecticut with Swenson. By this point she was restless. She had passion and fire sizzling inside of her but without any outlet to channel it into. She pondered long and hard before deciding that she would focus all of her attention onto… animals! Who would have thought? This rebellious punk artist, known for her violent on stage antics, focusing all of her energy onto furry & feathered creatures!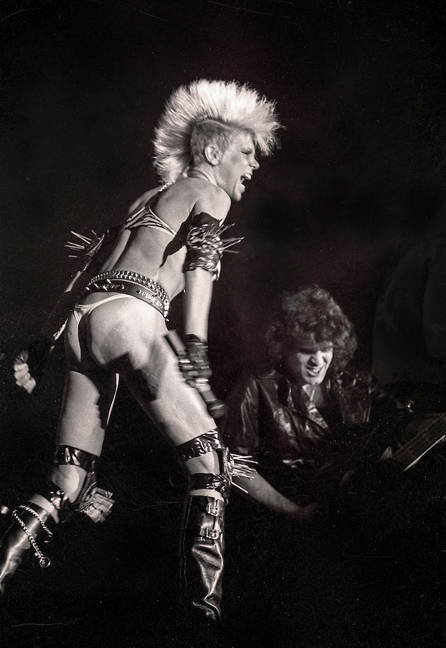 And that she did. She turned to animal rehabilitation and promoted vegetarianism. She endeavoured to show that by embracing this way of life life, not only can you improve your own health, but also you can benefit the planet and spare animals from pain too; An unlikely and heart warming twist to her otherwise subversive life so far.
Not many knew, but according to Swenson, Wendy suffered from a deep and very dark depression. Allegedly she had been fighting a relentless battle with her mental health for many years.
It was April 6th 1998 and Swenson had departed for the day, leaving Wendy at home in Storrs. When Swenson returned home in the evening, he found an obscure note written in Wendy's handwriting. The note read:
The act of taking my own life is not something I am doing without a lot of thought.
I don't believe that people should take their own lives without deep and thoughtful reflection over a considerable period of time.
I do believe strongly, however, that the right to do so is one of the most fundamental rights that anyone in a free society should have.
For me much of the world makes no sense, but my feelings about what I am doing ring loud and clear to an inner ear and a place where there is no self, only calm .
Love always, Wendy."
With an immediate sense of panic sweeping over him, Swenson went in search of Wendy. He walked to the woods where Wendy would often feed the wildlife. After a short while of searching, Swenson finally found her.
Swenson claims that he found Wendy in the woods. She lay next to broken nut shells which had been left behind when she'd fed the squirrels just days before. Wendy had committed suicide by taking a bullet to her own head. A heartbreaking, violent end to a colourful and vibrant life.
Wendy had taken the world by storm with her punk music, outrageous mohawk hairstyle and erotic costumes. She fought back in the face of adversity, wholly rejected the status quo and dared others to embrace their own unique weirdness. As if that wasn't enough, she used her final days to fight for the betterment of animals and sought to create change for those that didn't have the ability to do it themselves.
Thankyou Wendy for showing us that kindness and ass-kicking aren't mutually exclusive. We salute you, your sexual liberation and your rejection of the mundane.
Rest in Rebellion.