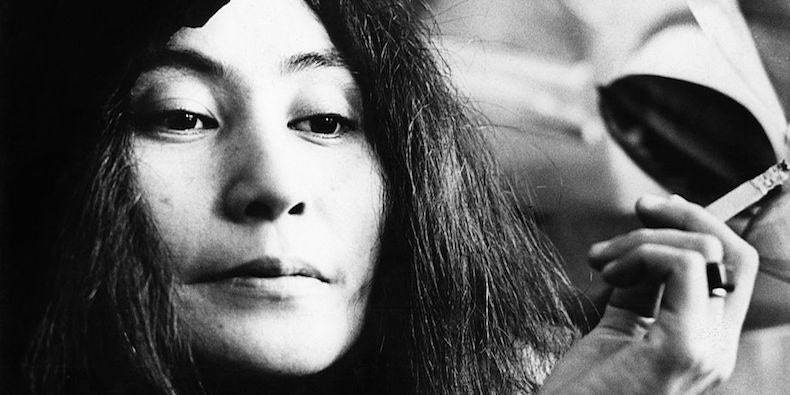 You change the world by being yourself.
- Yoko Ono -
Bonjour fellow Misfits & Rebels & welcome to our latest issue of Behind the Muse. This time we will be delving into the infamous Yoko Ono; avant grade artist, bohemian icon and muse behind my Peacemaker scented candle.
You will undoubtedly be aware of Yoko and her infamous relationship to John Lennon but we're here to tell you that Yoko is also an irrepressible force in her own right. She's divided opinion, protested for peace and stirred souls in the heart of the sixties revolution.
So sit tight & prepare yourself for a story of art, self-expression, music and a smattering of conflict…
A young Yoko Ono entered the world on 18th February 1933 in Tokyo, Japan. Born into a family of conservative Japanese aristocrats, Yoko was a square peg in a round hole from the moment her curious brown eyes opened.
Yoko's banker father, Eisuke Ono had been transferred to San Fransico for work just months before Yoko was born. After Yoko's arrival, her, her mother & 3 siblings followed their father across the globe and setup a new family nest in San Francisco.
After 4 years, Eisuke was transferred back to his native city of Tokyo in 1937. Shortly after & much to the delight of her parents, Yoko enrolled at Gakushuin; a very prestigious peer school. Yoko's childhood, although full of material luxuries was overall, lonely and emotionally barren. The relationship between her & her Mother was strained. She thought of her children as a burden who were infringing on her fun in high-class society. Yoko would even ring the bell for the maid, just so that she had some companionship. Her other companion of course, was her creativity and musicality which she would use as a mental & emotional escape.
1945 saw tragic bombing of Tokyo by American planes. Yoko and her family were forced to flee to the countryside & forage for food in order to survive. This new found life of scarcity was a far cry from the Ono's usual lavish surrounds. The famers in the countryside resented those who had fled the bombings and threw stones at them in distain. Fortunately, the following year, Yoko was able to resume her studies and even became the first woman to enrol in Philosophy studies at Gakushuin University.
Yoko's time here only lasted for two semesters as a new life beckoned in New York thanks to another work relocation for her Father. Here Yoko was immersed for the first time in arts, liberal thinking, music & creative freedom, and boy did she like it! Frustratingly however, Yoko was uprooted again when the family left for Japan in 1941, on the eve of the Japanese attack on Pearl Harbour. So much too-ing and fro-ing for poor Yoko at such a young age!
Throughout World War II, Yoko and her family stayed in Tokyo. They even witnessed the great firebombing of 1945! However, once Yoko reached the age of 18, it was decided that the family was going to up and leave Japan again to settle in America. They planted their roots in Scarsdale, New York where Yoko was to study at Sarah Lawrence College,  a liberal arts college in New York.
Yoko didn't have her sights set on her studies though, instead a Julliard student by the name of Toshi Ichiyanagi had caught her eye. Yoko and Toshi shared a mutual love of avant-garde music and before long, Yoko had written her first composition. Secret Piece, in 1955. Much to the dismay of Yoko's parents, Yoko and Toshi were soon married in a secret ceremony and they eloped to Manhattan where Yoko began her quest for artistry.
HIGH PRIESTESS OF HAPPENING
Yoko thrived in Manhattan. For her the art scene was sheer, exuberant, careless joy. She was drawn to the art events like a creative moth to a painterly flame. She became the unofficial curator for some of the smaller galleries and was gaining notoriety. They nicknamed her "The high priestess of happening" as she was always on the cutting edge of culture and trends. She hosted parties at her home in Greenwich Village which drew a pulsating crowd of glitterati and artists. However, despite her first solo show in 1961, Yoko's own work was yet to gain traction. Instead, to support herself, she worked as a secretary and teacher of Japanese arts.
It wasn't until Yoko met art promoter Anthony Cox that she started to receive interest in her own artistic work. Aside from art promotion, Cox was also a jazz musician & film promoter. And Just like Yoko, he was immersed in the New York art scene. Like all great muse stories, Yoko and Anthony's professional, art relationship soon escalated into a whirlwind love affair. 2 years later, Yoko was divorced from her first husband and had given birth to her and Cox's daughter named Kyoko.
Inspired by Yoko's free imagination & zest for creativity, Cox helped Yoko to finance and coordinate her interactive, conceptual events. Yoko's most now-famous piece was called Cut Piece and it was exactly that; members of the public were invited to cut pieces from Yoko's clothing until she was completely naked, a pretty radical concept at the time!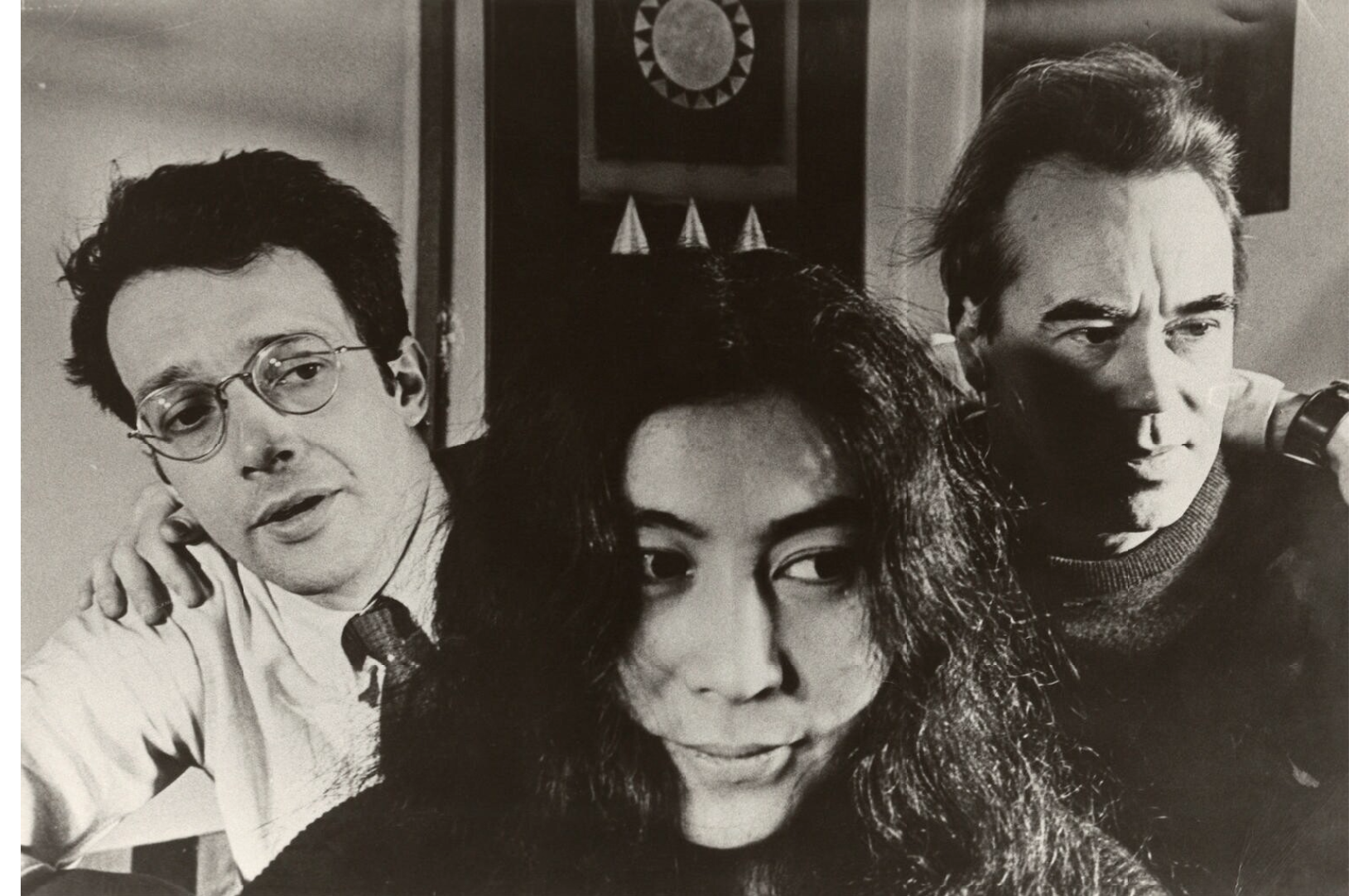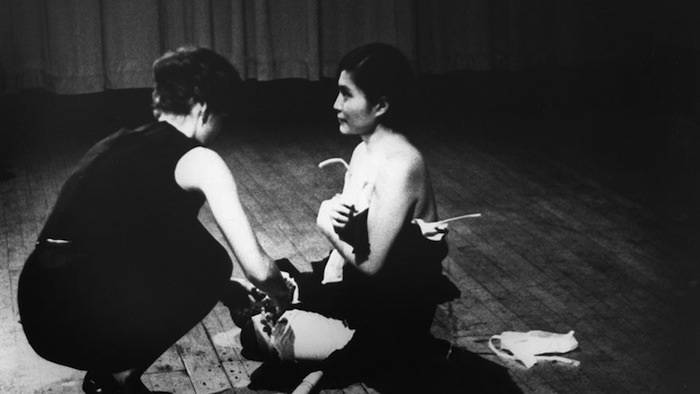 Cut Piece, Yoko Ono, 1964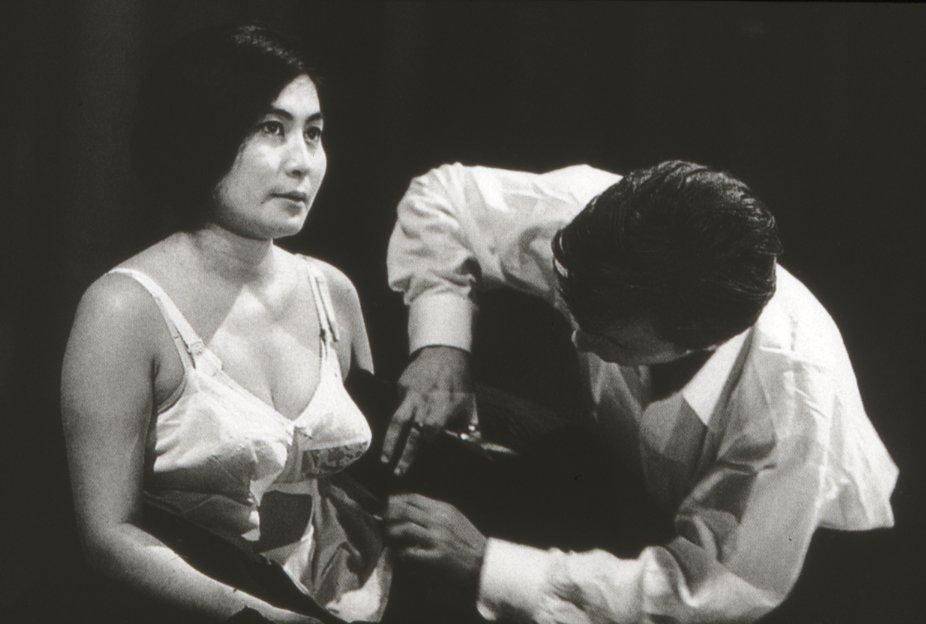 Cut Piece, Yoko Ono, 1964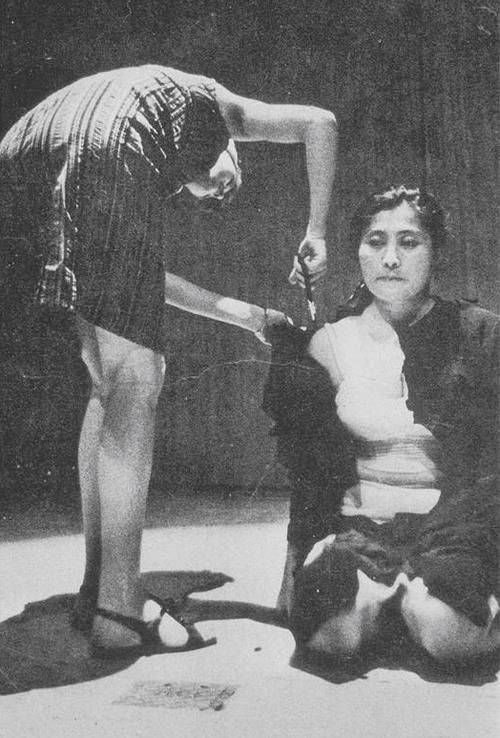 Cut Piece, Yoko Ono, 1964
HIGH PRIESTESS OF HAPPENING
Thanks to the success of Cut Piece, Yoko was invited to hold an exhibition at the Indica Gallery in London. Whist she was preparing the exhibit, who should stroll in but non other than musical genius John Lennon. Lennon was awe-struck by Yoko's art and was particularly taken with a piece named YES, which he remarked 'radiated with positivity'.
Now heres where it gets messy… Lennon was already married to his childhood sweetheart Cynthia. But as legend has it, Lennon simply couldn't rid Yoko from his mind. He found himself consumed with thoughts over Yoko and her work. So, when Cynthia took a trip out of town, Lennon invited Yoko to their house. His supposed plan was to 'discuss art' but when Cynthia returned from her trip, she found Yoko sitting at her dinner table in nothing but a robe. Lennon divorced Cynthia and later married Yoko on 20th March 1969.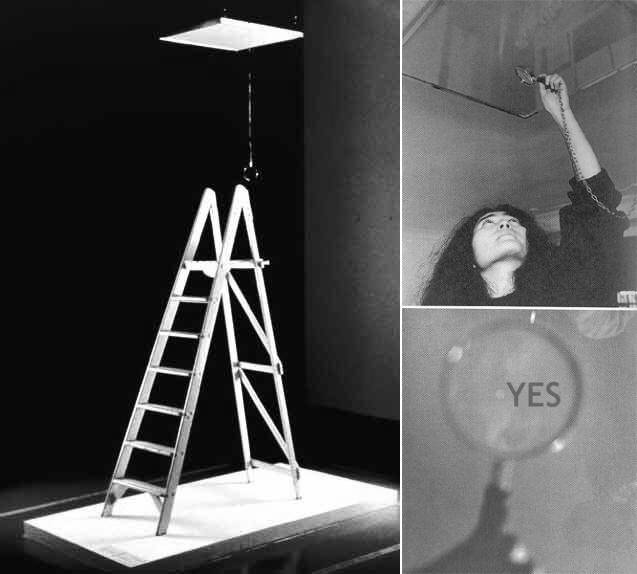 Yoko and Lennon were infatuated with one another. They embarked on a series of creative projects that spanned across art, film & music. It said that Yoko even joined Lennon and the rest of the Beatles in their studio and would offer advice on ways to 'improve' their music. Needless to say, this wasn't well received by the band. They soon also became famous for their conceptual events. In 1969, when war raged with Vietnam, the couple staged two week "bed-in" protests for peace. The idea derived from a "sit-in" in which a group of protesters remain seated within an establishment until they are evicted, arrested, or their demands are met.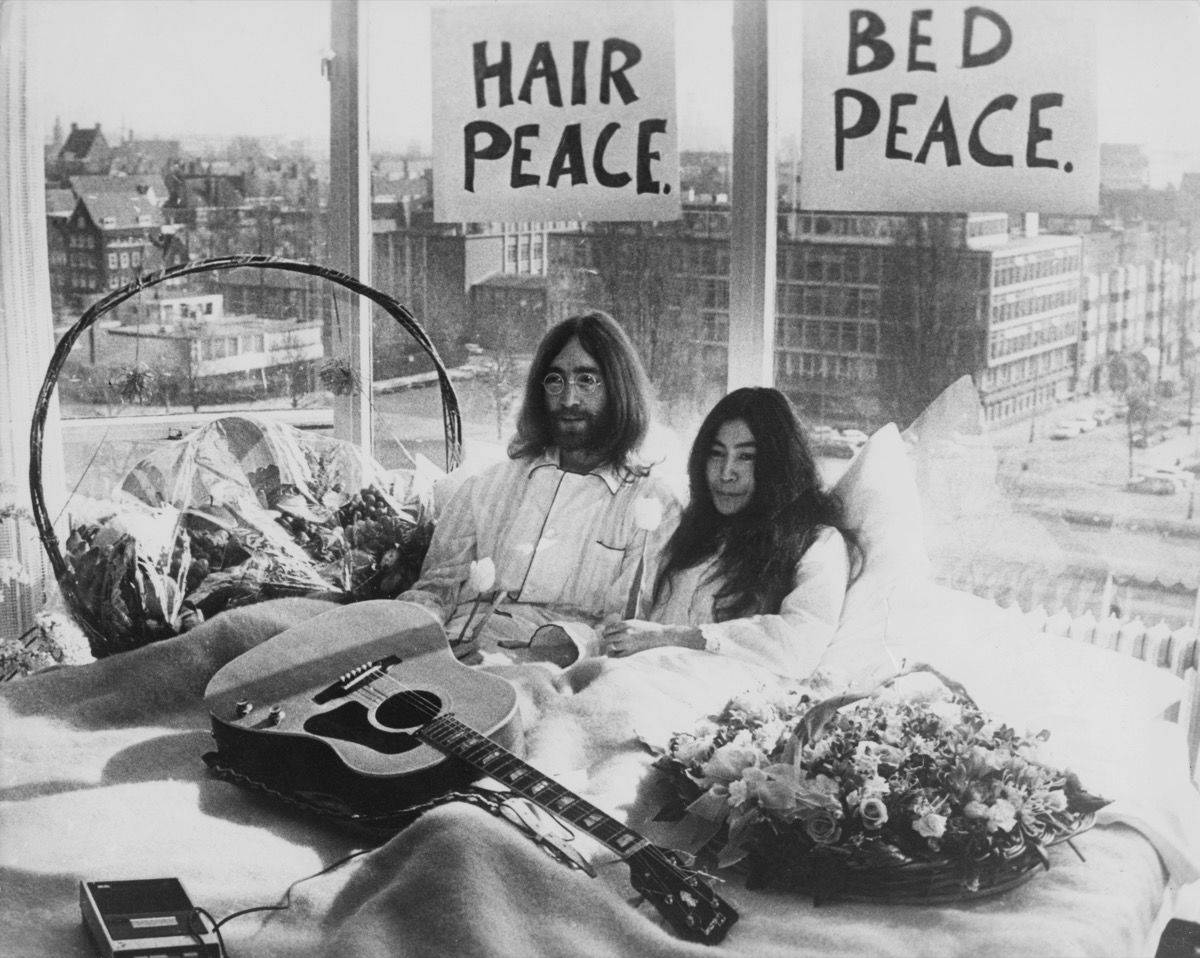 John Lennon and Yoko Ono in their bed in the Presidential Suite of the Hilton Hotel, Amsterdam, 1969. Photo by Keystone/Hulton Archive/Getty Images.
To the causal observer, Yoko's and Lennon's marriage appeared to be musical & artistic harmony. But behind closed doors, Yoko was struggling with the custody battle over her daughter Kyoko, whom she shared with her second husband.
Due to the lack of contact, Yoko wrote the song 'Don't worry Kyoko' in the hopes that her daughter would hear it and reach out. Sadly the song fell on deaf ears and Kyoto didn't make contact. However, unbeknown Yoko, her ex-husband had intentionally hidden their daughter. Rumour has it that Kyoko and her father joined a religious cult called The Walk where they lived for many years. Kyoko finally resurfaced in 1922, by which time she was 22 years of age. Sadly since then, Yoko and her daughter have remained somewhat estranged.
To add to the difficulties that Yoko was facing, she was distanced by her avant-garde friends. They remarked that Yoko was becoming too 'mainstream' and to make matters worse, she was loathed by Beatles fans who believed that she was disrupting the band. After a bout of endlessly shifting moods, Yoko and Lennon took a break. They physically distanced themselves from one another but remained in close contact by talking on the phone every day.
After a year, the couple reunited and Yoko soon fell pregnant. At the age of 42, Yoko was terrified of miscarrying and so spent most her pregnancy time in bed. It is said that Lennon would lovingly push Yoko to the kitchen in her wheelchair so that they were able to enjoy meals together. Joyously, Yoko didn't miscarry and 1975 saw the arrival of their young, healthy son Sean.
However, In 1980 a tragedy occurred which would send desolate shockwaves across the globe & shatter Yoko's family unit.
One evening, when Lennon was returning to their home in Manhattan, a crazed fan by the name of Mark David Chapman shot & fatally wounded him whilst he stood only feet away from Yoko. Lennon was rushed to hospital but tragically died on route.
Needless to say, Yoko was broken by the death of her husband and disappeared into seclusion whilst the media frenzy ensued. Over the course of the 80's. she gradually reemerged and even started to produce new artistic works. Her campaigns for peace and a fairer world continued and in 2012, she founded Artists Against Fracking with her son Sean. This coalition of Artists aimed to oppose hydraulic fracturing in New York state.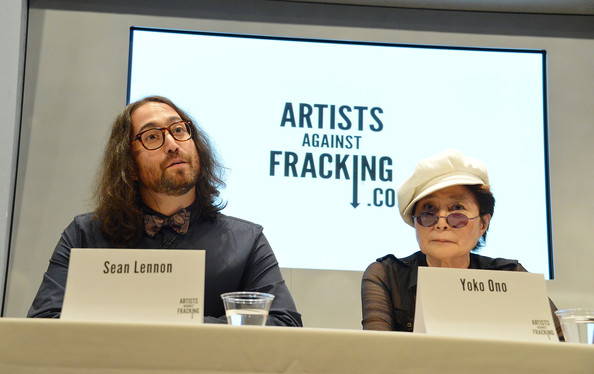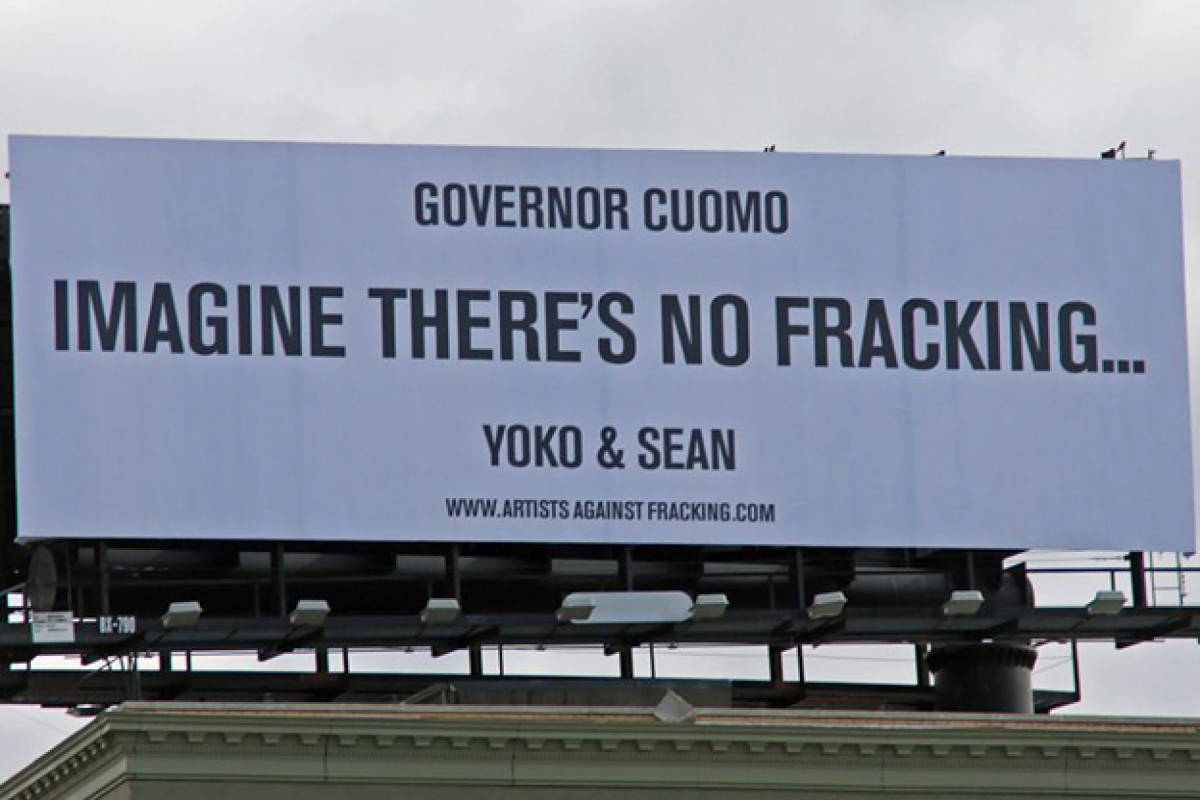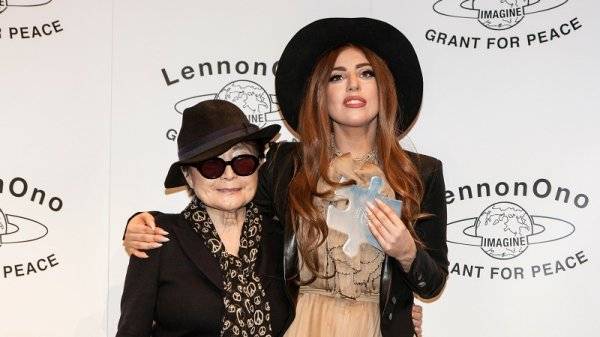 Yoko never forgot her late husband and she never married again. Since his death, her work has honoured Lennon through a series of noble projects. On 9th October 2020, Yoko created the 'LennonOno Grant for Peace Award' on what would have been Lennon's 62nd Birthday. On the same date back in 2007, Yoko unveiled the 'Imagine Peace Tower' in Iceland.
To this day, Yoko fights to demonstrate the importance and need for World Peace, always with her husband in memory. If that wasn't enough for a spirited woman of 87, Yoko also continues to hold exhibitions, erect sculptures and even had a number-one hit in the dance charts at the age of 78.